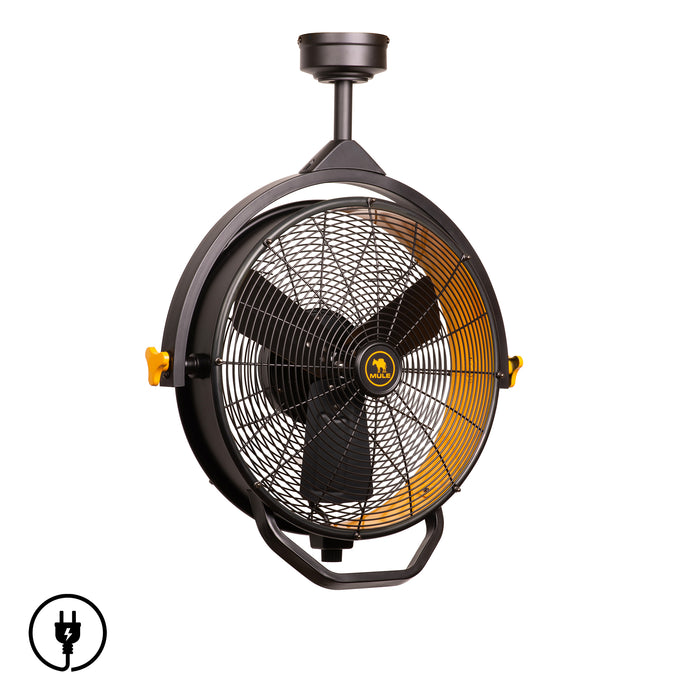 18" Garage Fan
Original price
$219.99
-
Original price
$249.99
MULE Garage Fan, Ceiling Mounted Plug-in Cord, 3 Speed, Powerful
3000

CFM, includes 6-in and 12-in downrods Black/Yellow

The MULE Garage Fan is the ultimate upgrade for your garage or workspace. Say goodbye to stifling heat, and experience exceptional airflow and lasting comfort throughout every season. With its effortless installation, the Garage Fan features a universal mounting bracket and standard 3-prong plug, allowing you to easily position it exactly where you need it. No junction box installation is required. With its 360-degree swivel and easy-to-use adjustment knobs, you have full control over directing the airflow. Whether you need a targeted breeze or widespread circulation, the MULE Garage Fan delivers.

Need flexibility? The MULE Garage Fan can be installed wherever you require it. Easily set it up in your preferred spot without any hassle. Just screw two wood screws into a joist to securely hang the fan. Plus, you have the option to choose between a 6-inch or 12-inch downrod for customized mounting height. Designed specifically for garages and workshops, the MULE Garage Fan ensures you never have to deal with stagnant air again. Its powerful 3-speed functionality boasts an impressive 3000 CFM on high speed, effectively moving all the air you need to stay comfortable while tackling your projects.

At MULE, we're dedicated to developing top-notch solutions for everyone from everyday DIYers to professionals. Our products are designed to meet the highest standards of performance and durability.
Product Details:
Powerful Airflow: Experience the MULE 18-inch Garage Fan's impressive airflow with its 3-Speed AC motor. Toggle between low and high settings to achieve the perfect amount of airflow, boasting an outstanding 3000 CFM.
Universal Mounting Bracket: Say goodbye to the hassle of installing a junction box. Easily position your fan wherever you desire, screwing just two wood screws into a joist. Our convenient universal mounting bracket offers secure hanging.
Easy Installation, No Hard Wiring: With the standard 3-prong plug, our fan effortlessly connects to any wall or ceiling outlet. Most garages have a spare plug near the garage door opener, making it the ideal spot for our garage fan. Utilize the 96-inch cord to reach the most suitable outlet available.
360-Degree Swivel Action: Enjoy seamless airflow control with our 360-degree manual swivel and adjustable knobs. Effortlessly change the direction of airflow on the fly, allowing you to stay comfortable and productive while working on multiple corners and workbenches.
Damp Rated: Our Garage Fan is designed for both indoor and covered outdoor spaces. Enjoy its cooling benefits in a variety of environments with confidence.
Optional Downrod Length: Customize the height of your fan installation with the included 6-inch and 12-inch downrods. The choice is yours, ensuring the perfect fit for your space. (Note: Compatible with any universal ceiling fan downrod of any length, provided it has a diameter of either ¾" or 1". )
Optional Cord Management: Achieve a clean, polished look for your space using the included 6 adhesive clips to neatly tuck away the 96-inch cord.
Warranty: MULE products are built to withstand the toughest conditions and are backed by a 1-year limited lifetime warranty. Rest assured, your investment is protected.
Location - Damp Rated
CFM - 3000
Size - 18"
Weight (Assembled): 14.6 Lbs. 
Wiring - Standard 3-Prong Plug
Motor - 3-Speed AC Motor
Mounting - Universal (2 Screws Into the Joist)
Cord Length - 96"
Downrod - 6" and 12" Included
Air Direction - Adjustable Up/Down Airflow
Swivel - 360-Degree Manual Swivel
Control - On/Off, Low, Medium, High Knob Control
Looking to place a larger order?
Use our request a quote form below and our support team will get back to you shortly.