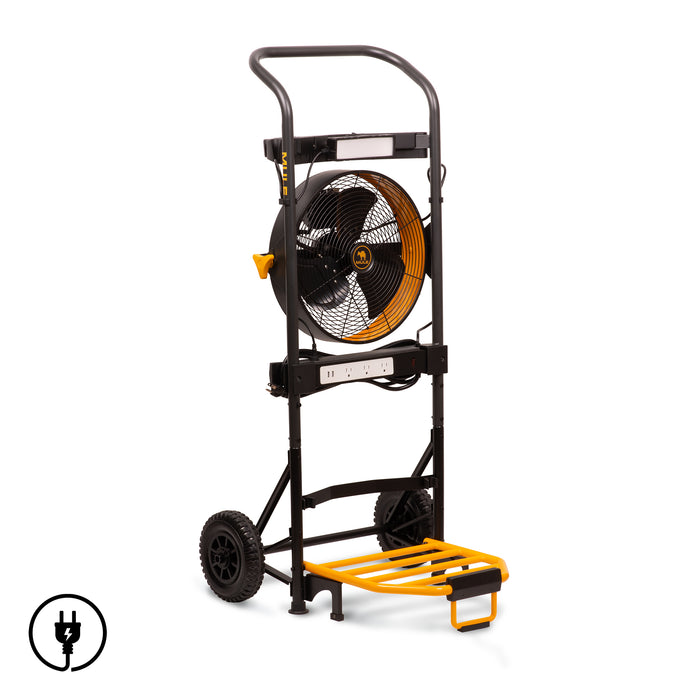 5-in-1 Mobile Workshop
Original price
$299.00
-
Original price
$299.00
MULE 5-in-1 Mobile Workshop, integrated 3-speed fan, LED light, power strip, tool caddy, and 200lb capacity hand truck
Designed to make everything you do easier, the MULE 5-in-1 Mobile Workshop is the ultimate project cart for capable DIYers and professionals. With a powerful, 3-speed adjustable fan, bright LED light, power strip with a 10-foot cord, loading tray to haul materials, and tool caddy to store small tools, the Mobile Workshop reduces clutter in your workspace and adds convenience to any job. It combines all the project essentials in one place and lets you haul your tools where you need them.
At MULE, we're dedicated to delivering innovative solutions for everyone, from DIYers to professionals. Our products are made to meet the highest standards of performance and durability.
Product Details:
Stay Ventilated: The adjustable, 14", 3-speed, high-velocity fan with 2,500 CFM can increase airflow to help you stay cool and make work a breeze and keep your worksite free of dust or fumes.
Professional-Grade Construction: The durable design can withstand the rigors of the worksite and make even the toughest tasks easier.
Power Where You Need It: The integrated power strip with three 110v outlets and two USB 2.0 ports lets you plug in tools and charge your phone. A 10-foot power cord gives you power wherever you need it.
Light Up Your Worksite: The powerful, adjustable LED light provides 1,100 lumens of light output to illuminate where you work.
Haul Your Tools:With a 200-lb loading capacity, the Mobile Workshop allows you to haul toolboxes, 5-gallon bucket, project materials, coolers, or other supplies. Easy slim  fold away design and an integrated tool organizer with (4) bungees keep your tools right where you need them.
No-Flat Tires: The 8" tires are made with solid, rubber construction and rugged tread to take on any terrain.

Warranty: MULE products are built to withstand the toughest conditions and are backed by a 3-year limited warranty. Rest assured, your investment is protected.
*Patent Pending
Fan Details:
Cage Size: 14" Diameter
CFM: 2500 on High
Push Button Control: (Off, Low, Med, High)
Motor Draw: 0.52 Amps
Light Details:
Size: 6.5" x 2"
Output: 1100 lumens
Color Temperature: 4000k
Cart Details:
Dimensions: 47" x 23" x 25"
Loading Tray Depth: 14"
Loading Tray Limit: Up to 200 lbs
Wheels: 8" No Flat Tires
Powerstrip Details:
3 x 110v - 3-Prong
2 x USB 2.0
Max Load (Powerstrip) - 1800 watts
Power control - On/Off Rocker Switch
Power Cord Length: 10' 14/2
Accessories Included: 
Product Net Weight: 37 lbs
Retail Box Size: 35.2" x 19.11" x 11.8"
Looking to place a larger order?
Use our request a quote form below and our support team will get back to you shortly.