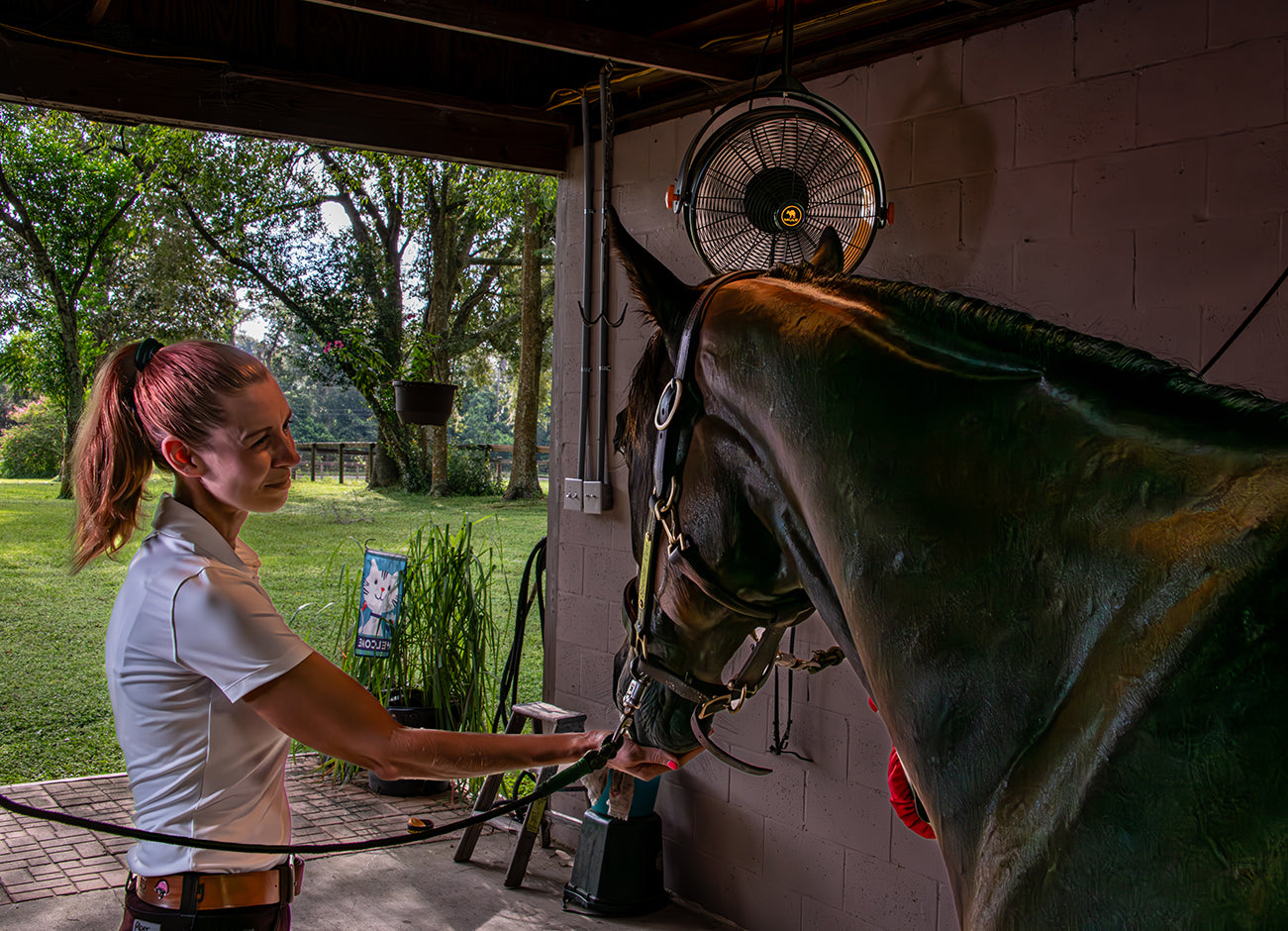 Garage Fan Profile: Caban Horse Farm, Summerfield, FL
Working in the blazing heat is never fun for horses or humans. The ability to move a lot of air efficiently is important. Caban Sport Horses located in Summerfield, Fl requires maximize ventilation due to the high temperatures and humidity that they experience much of the year. 
As such, their barn has an open design which allows dust and moisture into the barn itself.  Recently they installed a MULE Garage Fan and have been running it up to 18 hours per day without concern that the moisture in the air or excessive outside temperatures will cause it to overheat and become a hazard to their animals as safety is paramount since they are not always in facility to monitor their animals 24/7.
"We struggled to find fans that are safe, powerful but also quiet for our facility.  This fan moves a lot of air but even with multiple fans running our horses are not bothered by noise and we can still have a conversation.", commented Owner, Gail Caban.
As many horse owners can relate it is important to keep animals cool and comfortable. Many of horse owners buy some version of a fan every year or two. "Sadly, they become disposable as they don't typically hold up long term – they simply stop working or start making weird noises etc. and get sent to the garbage.  Our MULE Garage Fan will replace the lesser quality models from the past. This feels like a quality piece of equipment, I expect it to last for years to come.  It looks great too!", Gail notes.
Lastly we asked Gail how what did she think of the installation process and she had this to say, "I installed this myself in about 15 minutes.  Directions were clear, the pieces fit together as they should.  I also like the option of a shorter or longer down rod, depending on where they are placed, I have a need for both.  It is easy to switch between if you are not sure what you want when you start the install."
PROFESSIONAL GRADE PRODUCTS BUILT FOR EVERYONE... MULE PRODUCTS!
If you're looking to improve the airflow in any space at home or work, check out our Ultimate Guide to Understanding Better Airflow today.